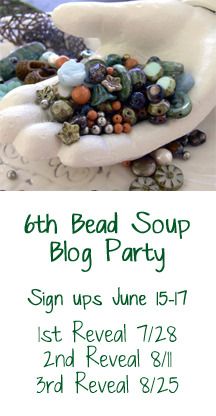 I was just informed by a close friend and SEO wizardress (
yes, a wizardress equates to a female wizard
) that having duplicate posts on both of my blogs was a
HUGE
No-No in Google's eyes and I potentially could have had some bad ramifications because of it.
So in order to avoid said ramifications, I went ahead and deleted my bead soup posts on this blog for two main reasons:
1. Google's wrath.
2. I committed to the party with my other blog, so I'm going to see it through with that one!
That doesn't mean I can't collect the links to all my other posts about the party and sum everything up for you here though. So, without further adieu, I give you my 6th Bead Soup Party blog post collection:
Bead Soup Blog Party & an Intro
Meet Lori of Lori's Glassworks!
Care for Some Soup Anyone?
6th Bead Soup Blog Party: The Reveal
Make sure to keep checking back for additions to the link list as the party continues and my reveal date draws near!