Work It Wednesday is a meme for any type of artist and crafter regardless of what you do, where you're located, or what medium you work with...If you create with your hands and your heart, you're welcome to link up with your latest work(s)-in-progress!
****************************************
Here's my latest work in progress (
which I happened to finish before this WIW, but we'll roll with it this week
).
I'll post pictures of the final project when I can get my picture situation (
or lack there of
) finalized!
So, what are you working on this week?
Care to link up with me?
Grab the WIW button!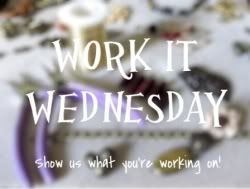 <center><a href="http://www.theeclecticelement.com"><img src="http://i1145.photobucket.com/albums/o511/TEEJewelry/Untitled_zps0837ec08.jpg"/></a></center>