Work It Wednesday is a meme for any type of artist and crafter regardless of what you do, where you're located, or what medium you work with...If you create with your hands and your heart, you're welcome to link up with your latest work(s)-in-progress!
****************************************

This bracelet (
yes, another bracelet
) was inspired by the focal piece key hole I picked up at one of my favorite local antique malls.
I love how it's turning out, don't you!?
What are you working on this week?
Care to link up with me?
Grab the WIW button!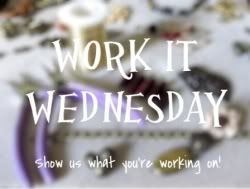 <center><a href="http://www.theeclecticelement.com"><img src="http://i1145.photobucket.com/albums/o511/TEEJewelry/Untitled_zps0837ec08.jpg"/></a></center>