Work It Wednesday is a meme for any type of artist and crafter regardless of what you do, where you're located, or what medium you work with...If you create with your hands and your heart, you're welcome to link up with your latest work(s)-in-progress!
****************************************
This week, I'm showing you the start of either a bracelet OR a necklace; not sure which yet, but that particular detail will be chosen from the person I'm making this for.
I like the color scheme I've laid out, but it might change depending on my vision as I work.
What are you working on this week?
Care to link up with me?
Grab the WIW button!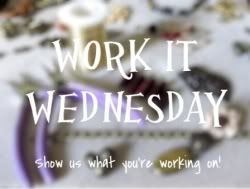 <center><a href="http://www.theeclecticelement.com"><img src="http://i1145.photobucket.com/albums/o511/TEEJewelry/Untitled_zps0837ec08.jpg"/></a></center>